Northwest Angle Edge Riders
As a lot of us are aware, the snowmobile trails in the Northwest Angle area are among the best anywhere, from a grooming aspect, for being well marked as well as marked early in the season and for connecting to trails that take you anywhere you want to go – south to the Baudette Sno-Drifters' trails and the Roseau Trailblazers' trails as well as north to the Ontario and Manitoba trails.
Posted: 02/14/2020 09:23 am
Status: Open
Condition: Good
Valentines Day Trail Update Feb 14 2020
Support our Sponsors, especially on Valentines Day!  Groomer operators said after the winds the lake trails were brutal, but all Edgerider trails on the lake were groomed.  Some snowmobilers that stopped at NWA resorts mentioned the lake trails were so nice they exceeded the speed limit a bit a few times.  With all the attention on the lake trails the land trails didn't get much attention but are mostly protected by woods, but use a little more caution when in the woods there could be an unexpected drift.  The trail from Warroad is not on the picture but was groomed.  To see the picture, click on www.nwaedgeriders.org  
Latest Events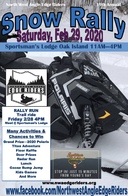 Annual Snowmobile Rally
Sat, Feb 29th, 2020 11:00AM
Latest News
Sat, Dec 07th, 2019 | Edge Riders
Feb 29, 2020 Raffle Ticket Prize List
Support the club and chance to win some cool stuff
Read More...