Northwest Angle Edge Riders
As a lot of us are aware, the snowmobile trails in the Northwest Angle area are among the best anywhere, from a grooming aspect, for being well marked as well as marked early in the season and for connecting to trails that take you anywhere you want to go – south to the Baudette Sno-Drifters' trails and the Roseau Trailblazers' trails as well as north to the Ontario and Manitoba trails. Click here for border information.
Posted: 01/09/2020 05:35 pm
Status: Open
Condition: Good
January 9, 2020 Edgerigers Trail Report
This week we got some more junction boxes out to help people navigate.  We are planning to groom more tonight, (Richard Carlson Trail) but the picture shows what's been groomed since Sunday.  The snow and wind me received Wednesday night created a few finger drifts to watch out for when traveling. We were able to groom double wide on many of the lake trails in green, and noticed some slush starting to pop up in the inlet area of the NWA, but its minor at the time of this report.  .  
Latest Events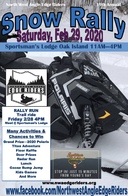 Annual Snowmobile Rally
Sat, Feb 29th, 2020 11:00AM
Latest News
Sat, Dec 07th, 2019 | Edge Riders
Feb 29, 2020 Raffle Ticket Prize List
Support the club and chance to win some cool stuff
Read More...