Northwest Angle Edge Riders
As a lot of us are aware, the snowmobile trails in the Northwest Angle area are among the best anywhere, from a grooming aspect, for being well marked as well as marked early in the season and for connecting to trails that take you anywhere you want to go – south to the Baudette Sno-Drifters' trails and the Roseau Trailblazers' trails as well as north to the Ontario and Manitoba trails. Click here for border information.
Posted: 01/29/2019 08:21 pm
Status: Closed
Condition: Closed
Land Trails
Thanks for a great year.
Latest Events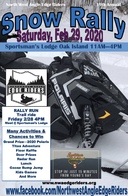 Annual Snowmobile Rally
Sat, Feb 29th, 2020 11:00AM
Latest News
Mon, Nov 18th, 2019 | Edge Riders
Trails closed but getting the network of land trails ready